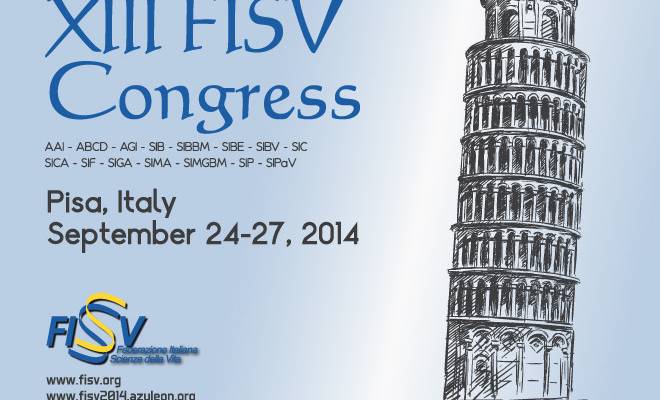 Palazzo dei Congressi, Pisa, Italy
September 24 – 27, 2014
It is a great pleasure to welcome you to the 13th National Congress of the Italian Federation of Life Sciences (FISV).
This is the second Congress that I have the honour to chair, and follows the Congress held two years ago at La Sapienza University, which had a relevant scientific success as well as a large participation of attendees, especially young scientists.
I am glad that the successful trend of participation continues this year in Pisa.
The interest of the Italian biologists for our National Congress and their enthusiastic response to the activities of FISV is growing and consolidates the impact of the Federation on the Italian Scientific Community.
I am sure that this will continue in the future years. The Federation welcomes this year a new member, the prestigious Society of Biochemistry (SIB), which joined the Federation last year. The Federation represents now a total of 15 Scientific Societies and about 10000 scientists involved in biological and biomedical research.
All 15 Societies actively contributed to the Congress organization. The program covers topics at the forefront of modern biology and offers contributions on emerging issues from some of the best laboratories in the World. Four plenary lectures, three plenary symposia and six parallel symposia will host outstanding speakers.
Mini-symposia, covering all the interests of the different Societies of the Federation, will highlight some of the best contributions chosen among the submitted abstracts.
I warmly thank the Societies of the Federation, the Organizing Committee and the Organizing Secretariat, which have greatly contributed to the success of this event. I also thank all of you for choosing to be in Pisa with us this year.
Best wishes,
Il Presidente della FISV
Prof. Felice Cervone
|  Scarica la copertina degli Atti del Congresso | – | Scarica gli Atti del Congresso  |